Home Solutions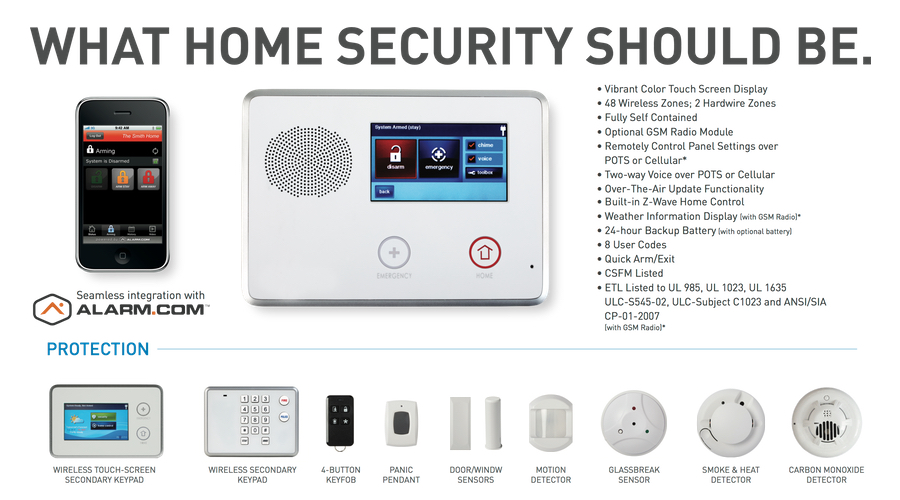 The most advanced home security systems in the industry
Many homeowners just like you have trusted us for their home security solutions. From alarm monitoring to alarm systems to camera systems, trust us to protect your home. Headquartered in Baton Rouge, we have been working throughout Louisiana since 1998, providing the kind of solutions our clients need to feel safe and confident every day.
Smart Security
| | |
| --- | --- |
| Home Automation | Home Security |
| Touch Screen Panel | Home Security Systems |
| Temperature Control | Home Alarm Systems |
| Lighting Control | Fire Alarm Systems |
| Small Appliance Control | Smoke Alarm Systems |
| Electronic Door Locks | Home Camera Systems |
| Remote Access | Medical Alert System |
More Reliable Hardware
Built to last and withstand the common wear and tear, an Alarm.com powered home security system will be there, keeping you protected when you need it most.
Dedicated System-Moitoring Communication
Because your system uses a dedicated cellular network, its communication channel is far more secure and reliable.
Emergency Voice System
Each system comes with a two-way voice system which will allow you to communicate directly with first responders.
Protection Against "Crash and Smash"
Even if your security panel is smashed and your phone line is cut, the system will continue to work.
Never Be Caught Unaware
With an intelligent system design, you are able to arm or disarm your system, check in, receive any notifications, and check any connected devices (locks, thermostats, lights, garage door,etc.) from anywhere at any time.
Instant Alert System
With you system you are able to receive notifications in real time by email or text.
Personalize Your User Codes
You can create unique, personalized codes for each person so you can know who's coming and going.
Keep Track of Activity
With the system's "History" feature, you can keep track and review your activity over a certain period of time or even find a specific event.
Intelligent Control
You can control your system from anywhere, at any time, using the Alarm.com mobile app.
Access Management
With one platform, you can see all entry points to your home and have access to managing your door locks and garage doors.
Motions Sensors for Visuals
If having access to your home's entry points isn't enough, our motion sensor package provides instant, high-quality image capture so you can see, on-demand, what is going on in your home.
Don't Miss a Thing
Adding our advanced solutions for video monitoring means you get the best of both worlds and will never miss a thing.
Manage Your Energy Usage Automatically
With a simple energy management upgrade, your system can learn your patterns and adapt automatically, making your life more convenient and saving you more money.
MONITORED 24/7 from OUR U.L. Monitoring Station.
Featuring the latest in modern technology, our 8,000 square-foot alarm monitoring central station is certified by Underwriters Laboratories each year. Our certified operators are ready 24/7 for your home's alarm pulse signals, in the event of an emergency. With our certified and local experts monitoring for burglary, fire, medical emergencies, or even potentially life-threatening situations, you can rest assured help is just a phone call away.